As the format of the GENER8 Launchpad follows the style of Ableton's session view, it only seemed logical that attaching an Ableton MIDI controller to would make perfect sense, and for the most part, it has.
Novation's Launchpad controller, a simple and reasonably inexpensive device provides us with a 64 pad grid along with some other navigational buttons. I have included support for the 1st 3 versions (Launchpad, Launchpad S, Launchpad Mini). Any users with any other versions please contact me if you'd like me to expand the range.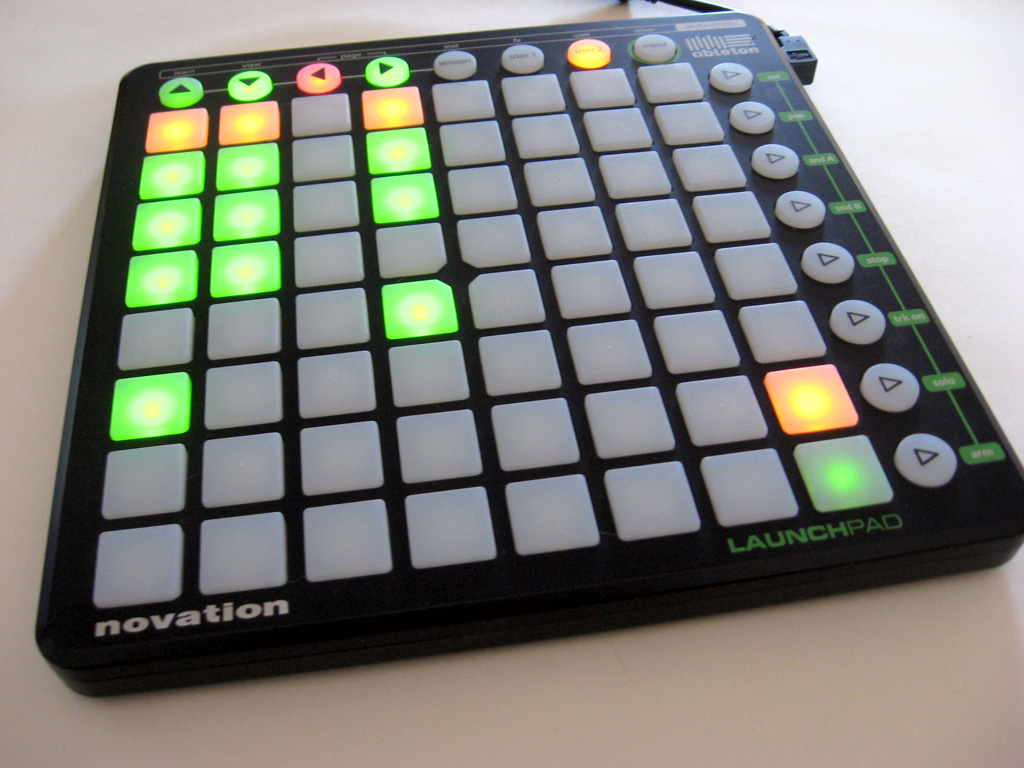 Launchpad shown here in Trigger Mode before I put in the Record Arming (pad-48) & Mode Select button (pad-8).
While we like the eternal '8' theme in MODUL8, there are 10 layers (2 banks of 5) which means our Clip view does not quite fit onto a 64 pad device, and so I decided to go with a 2 page set-up which is navigated by the cursor keys enabling to flip between banks A & B. This leaves us with 3 columns. The far right column I utilised for function buttons, and the other 2 I've left free so you have 16 pads free for assigning to you own favourite midi mappings.
All mapping is done within the USER 2 mode, so your Novation can still be used with Ableton while running GENER8.
FUNCTIONS
KEY for notation: Pad numbers reference
(top left = pad-1) > (top right = pad-8)
(bottom left = pad-57) > (bottom right = pad-64)
– Works in 'User 2' mode.
– View A or B Groups (</>round buttons)
– Scroll pages (up/down round buttons)
– Works in three 'modes'. Trigger/Select/Media (pad-8 to select mode)
Trigger Clips (Trigger mode – YELLOW)
Select or create clips & layers (Select mode – RED)
Select media from the Media Set. (Media mode – GREEN)
– Arm Timeline recording. Red = Armed (pad-48)
– Start/Stop Clock. Orange = Running (pad-56)
– Tap BPM (pad-64)
– Row trigger buttons will trigger rows in trigger mode.
MEDIA MODE
In media mode, the launchpad becomes a virtual media panel. The central 16 pads will light up indicating which media slots contain media. Press the row trigger buttons to change media pages. Access 'SP' media by toggling bottom row trigger pad.
Support for the new 'Media Sets' is yet to be included.
If pads become unresponsive, or you need to refresh – press 'User 2' button.
: D
NOTE: GENER8 will check for midi controllers on start-up. If you forget to attach your controller first, open the Launchpad preferences and hit the RESET CONTROLLERS button: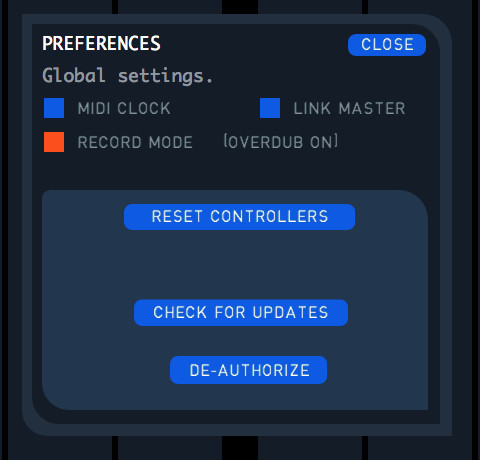 I'll be back with a video tutorial at some point…