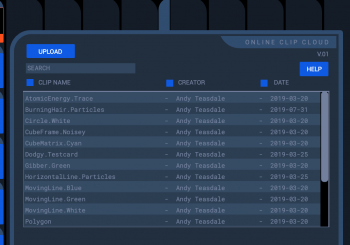 Video Demo – CLIP CLOUD
Can't see the video? Click Here
Here's a little video walking you through the new feature : CLIP CLOUD.
This shared online Clip Library (available in version 1.04 – check the downloads page) allows you to store/download Clip files in a community library, just like the Online Modules library within Modul8, but for generative Clips.
Note: Media files are not uploaded, so keep it generative.
Clip Cloud is available to all users, however only registered users of GENER8 can upload content.
If you wish to get full access why not register your copy of GENER8 > it helps to support development & server fees etc.